Counterweight Door Opener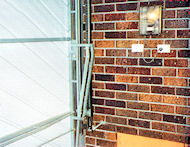 Remotadoor can automate your counterweight door with our own designed and locally manufactured counterweight garage door opener. Simple, compact and unobtrusive, it offers the best way to automate your existing counterweight door.

Products & Services
The Counterweight Garage Door Advantage
Find out why the Remotadoor Counterweight Garage Door is the best choice for homeowners, builders and architects.