Roller Door Opener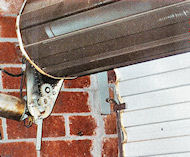 Unlike most roller door remote control mechanisms, the Remotadoor roller door opener fits neatly to the shaft of the door. That usually means that we can automate a roller door with minimum room around the roller door.

Products & Services
The Counterweight Garage Door Advantage
Find out why the Remotadoor Counterweight Garage Door is the best choice for homeowners, builders and architects.